Unleash Your Child's Potential:
Convenient On-Demand Career Training for K-12 Students

#Engineering & Tech | #Medical | #Law | #Business | #Aviation | #Skilled Trades | #Professional Sports | #Media | #Beauty & Fashion
We specialize in delivering an immersive and enjoyable career education experience for families, schools, and partners across the nation. Our innovative approach combines fun and interactivity to ignite a passion for learning and prepare individuals for future success.


Watch as your child's imagination ignites, propelling them toward a future full of endless possibilities

As your child's imagination unfolds, take pride in knowing that you are providing them with the tools to shape their future. With Teach Kids Careers, witness their imagination take flight, guiding them toward a world of limitless opportunities. Together, let's ignite their spark and watch as they embrace a future where their dreams know no boundaries.

Tools to ignite their creativity while preparing them for a better future.

Anytime courses include animated stories, activities, quizzes, and more.
Animated Stories

Unleash your child's inner potential with the magical career journeys of our animated characters!

Activities

Engage in activities that encourage kids to explore careers in their own communities through hands-on experiences and expert interviews.
Quizzes

Enhance your at-home or school-based curriculum with our interactive career quizzes.

Career Math

Unlock the hidden potential of math in our engaging Career Math course, inspiring kids to not only enjoy math but see it's importance in their future success.
Empowering Your Child's Journey: Enriching Courses and Engaging Lessons for Lifelong Learning

Comprehensive & Interactive

Our catalog offers carefully curated courses designed by industry professionals, combining expert guidance and interactive learning experiences.
Holistic Approach

Our courses go beyond knowledge, emphasizing valuable skills, personal development, and practical application for your child's future success.
Confidence in an Evolving World
Through our courses, your child will gain confidence and capabilities to thrive in a rapidly changing world with real-world examples and practical skills.
\Learnworlds\Codeneurons\Pages\ZoneRenderers\CourseCards
Why should you sign up for Teach Kids Careers?

Teach Kids Careers gives the next generation a head start by introducing them to exciting, future-focused careers! Our innovative courses help students explore and understand their full potential.

Why is early career education important?

At Teach Kids Careers, we're here to help your child explore exciting career possibilities and unlock their full potential. We believe that early-career education is essential in shaping a bright future for your child. By introducing your child to different professions and industries, we open their eyes to a world of opportunities. Our goal is to inspire curiosity, encourage their passions, and empower them with the knowledge and skills needed for success.

We understand that as a parent, you want the best for your child's future. That's why we're committed to providing a supportive environment where your child can discover their interests, gain confidence, and make informed choices about their educational journey. Join Teach Kids Careers today and let's ignite your child's imagination, nurture their dreams, and pave the way for a future full of possibilities. Together, we'll help your child explore their potential and build a solid foundation for their career path.


A simple and powerful curriculum

The Teach Kids Careers curriculum, taught at home or in partnership with educators and schools, is designed to empower kids with the knowledge and skills needed to succeed in high-demand careers. Our hands-on curriculum ignites kids' interests, equips them with essential skills, and blazes a path to growth and opportunity.
Discover & explore
careers
Discover high-growth career areas such as engineering, business, and law through our introductory courses packed with valuable insights. Help your child find their perfect fit for a pathway to success!

Dig deeper into
jobs
Dive into the heart of the careers that captivate you and discover the ins and outs of the careers within them. Gain insights into job duties, pathways, and everything you need to know to succeed in a job.
Build hireable
skills
Our skills courses equip kids with the vital tools and techniques they need to succeed in their future careers, from leadership and communication to problem-solving and interview skills.
Learn from top
mentors
Unlock your child's potential by providing them with the opportunity to learn from top mentors at Teach Kids Careers, guiding them towards a future of success and fulfillment.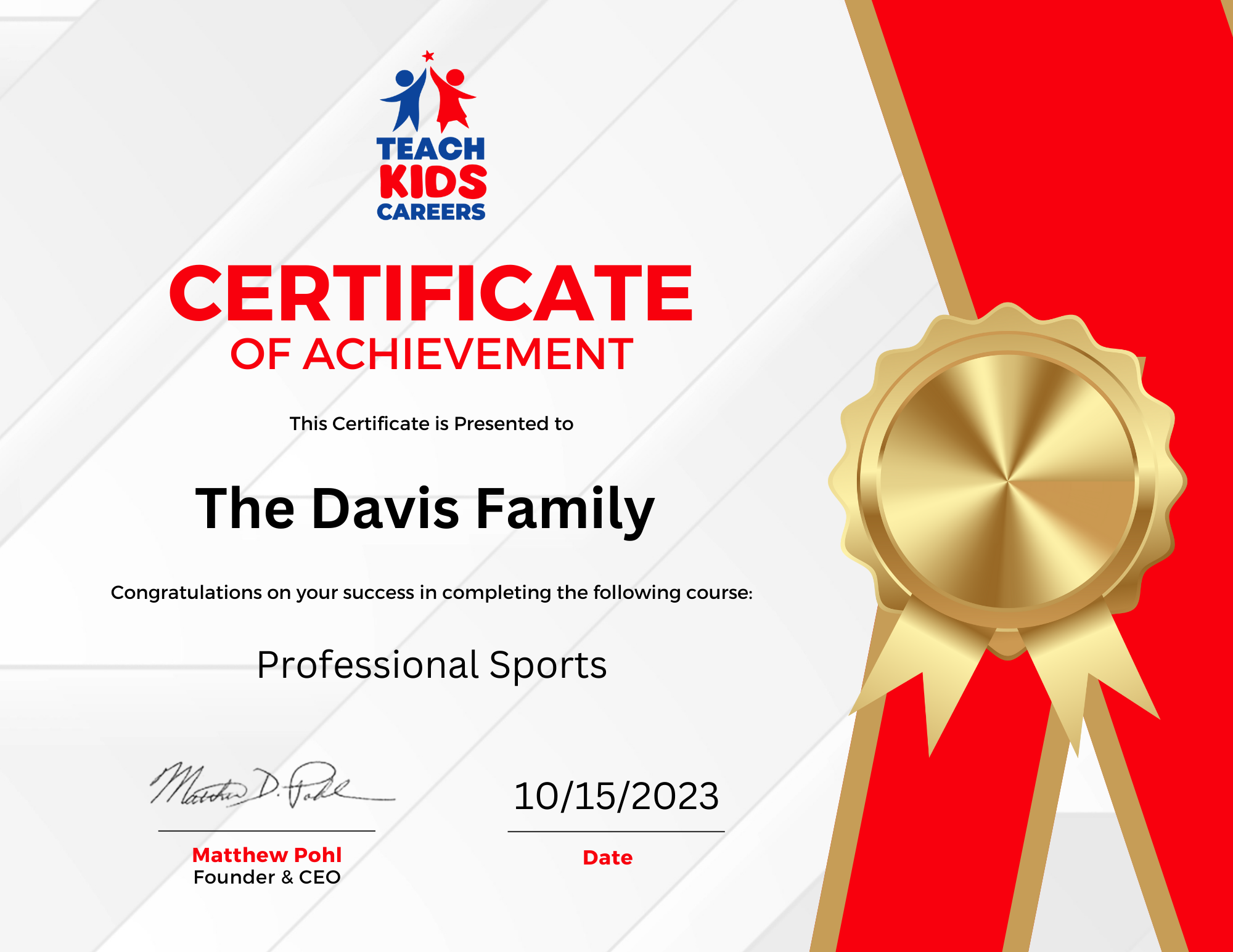 Earn awards!


Demonstrate your talent with top quiz scores! Teach Kids Careers can help increase your child's career knowledge by providing them with the skills and knowledge required to succeed in today's job market, including:


Communication
Teamwork
Problem-solving
Leadership training

Newest career trends

Welcome to our Growing Community of Families Nationwide
Every day, new families like yours are joining our vibrant and inclusive community at Teach Kids Careers. We are thrilled to have you on board as we collectively embark on an exciting journey of learning and exploration. Our community brings together families from all corners of the country, united by a shared commitment to providing the best opportunities for our children's future. Here, you'll have the chance to connect, share experiences, and learn from one another, creating a supportive network of like-minded parents.

Take this quiz and find out:
Our families love us
"As a parent, I was worried about my son's future, as he lacked direction and motivation; however, Teach Kids Careers has given me hope, as my son is now developing a passion in the trades and is now on a better path. Thank you for everything!"
Jose,
san antonio, tx

"Teach Kids Careers has been a godsend for my daughter, who has always dreamed of starting her own business; she loves the animated videos, and she has gained the knowledge and skills she needs, which her public school does not teach."

FRANCESCA,
BALTIMORE, MD

"As a business owner, I highly recommend Teach Kids Careers; the skills section has helped me teach essential customer service skills to my teenage employees, improving sales and customer satisfaction - a small investment that has paid off quickly."

JUSTINE,
LAS VEGAS, NV

THSC Member Offer
Dear THSC Member,

We wanted to express our heartfelt gratitude for the overwhelming response to the THSC Back to School Bundle offer, which has now expired as of June 30, 2023.

However, we have an exciting alternative for you! Utilize the promo code "THSC2023" and enjoy a 50% discount on any subscription available on our website until January 1, 2024. This exclusive offer is our way of showing appreciation for your support and granting you access to a wide range of educational resources.

Our captivating courses and enriching eBooks await you. Explore our website now and embark on a learning adventure like no other.

Thank you for your continued support, and we look forward to serving you in your educational journey!